United Ways can better engage donors and gain campaign insights using Community Connect
As individuals change jobs at an increasing pace, Local United Ways need improved donor engagement. You can now use Community Connect to create a powerful, easy-to-use donor relationship management system that gives deep insight into both individual donors and giving campaigns. Local United Ways can now tell their story directly to the people who give, and involve them more intimately in the good work that they're supporting.
Connect with individuals and companies
United Ways know that tectonic shifts in the American labor model are affecting its success. "With people more transient in their employment and companies moving to contract workers, our giving model began to change drastically," says Rick Collins, Assistant Vice President of Information Management at United Way of Central Ohio, one of the country's oldest and largest United Ways. "Management saw that we were really good at connecting to companies and their leaders but not to individuals. We needed to connect to our 80,000 individual donors in central Ohio and build a relationship with them."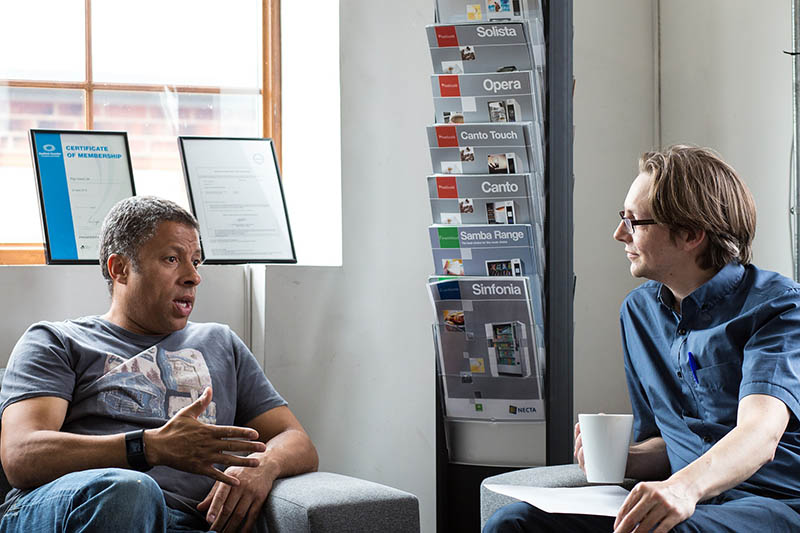 Go to the cloud and simplify
Your local United Way can now move to the cloud—to Upic's Community Connect CRM. It includes a friendly interface, great interactivity, and enables your local office to eliminate third-party add-ons. Best of all, your United Way can connect the software tightly to Andar/360 by utilizing the Upic Services team. Another plus is that Community Connect can be "turned on" instantly. "We have a two- to three-month time-frame in our annual campaign cycle when we can make a big technology change like this, and we didn't have three months to deploy a new server infrastructure," Collins says.
Gain instant insight
into campaign health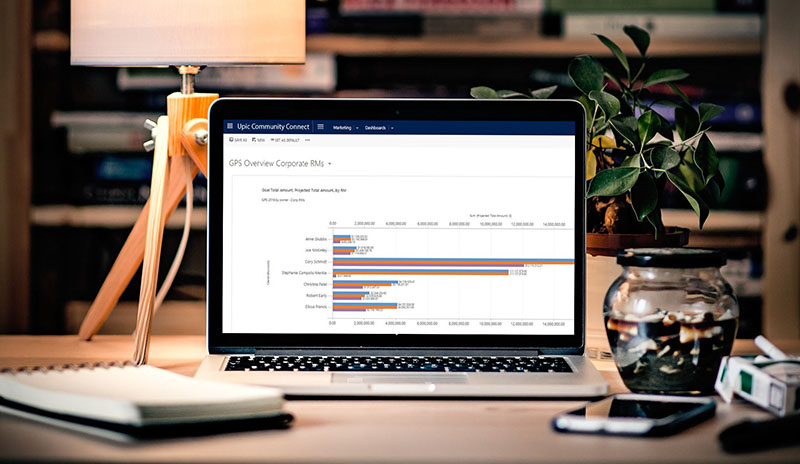 Many United Way offices use Andar/360 for the financial transactions and billing side of campaigns, and Upic's CRM, Community Connect, for donor communication such as thank-you letters and tax receipts. The two solutions work together seamlessly.
Local United Ways can also customize Community Connect. For example, you can create an entity to handle visits with community leaders. An automated workflow now guides the whole process, from setting up the appointments to suggesting materials to take to follow-up ideas. It replaces a manual process and the associated guesswork and forgotten details.
In addition, United Ways can now gain access to multiple dashboards that show the real-time status of giving in major areas, number of donors, types of donors, and so forth. "It previously took about three hours of spreadsheet manipulation to get what we now see with one click in Community Connect, " Collins says. "We're spending less time on reporting and more time on tweaking campaigns strategically to maximize their success."
Tell the United Way story directly to individuals
Local United Ways have much more in-depth knowledge about the individuals who support it and can thus communicate with them in a more meaningful way. "We want people to give to United Way because they really want to, not because their companies asked them to," Collins says. "With our outreach through Upic Community Connect, we can tell our story directly to individual donors versus trusting that it's going to filter down through employers. We can involve them in our mission."
And this personal involvement is critical to sustained giving. Donors like to know where their money is going, and Local United Ways can now dive deeply into its relationship with them, tie donor dollars to volunteer hours, analyze patterns around like-minded donors, and generally understand both the hearts and actions of the people who support it. "With all the insights we have with Upic Community Connect, we can communicate more intimately with individual donors about giving areas we know that they're interested in," Collins says.
Extend insights to donors and recipients
Local United Ways plan to get even more use from Community Connect. We are also building a donor portal, where donors can see their giving and volunteer histories, update contact information, and see giving opportunities that appeal to them.
The organization is also using Microsoft Power BI to gain more visual ways of presenting data to donors and volunteers. And it plans to connect Upic Community Connect with its system that tracks grant recipient reporting. Recipient organizations will be able to submit reports through a Upic Community Connect portal, and United Ways can more easily analyze community impact data against donation dollars.
"We're excited about all the ways that we can use Upic Community Connect to build stronger, lifelong relationships with donors, recipients, and other members of the United Way family," Collins says.